Loves Me, Loves Me Not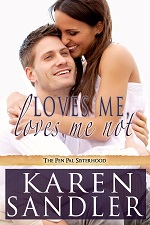 Elementary school principal Katherine Tipton is used to dealing with mischievous children. But the problems she's having with one unruly pupil are nothing compared to the trouble she finds herself facing with the child's attractive father. Single dad Steven Walker made a fortune designing wacky computer games for kids, but that won't stop Katherine from trying to make him see reason.
While paying a visit to the funhouse Steven calls home, Katherine is all business. But try as she might to disapprove of his carefree attitude, the sexy creative genius charms her into having some fun. Steve's convinced there's a passionate and high-spirited woman beneath Katherine's strait-laced exterior-and he's determined to win her. But Katherine's going to have to teach him the rules of this game. The game called love.
His Make-Believe Wife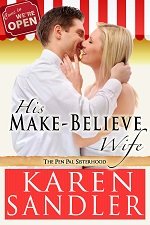 Handsome CEO Jack Hanford wants Rachael Reeves to be his wife...in name only for a publicity stunt. And Rachael says yes! After all, she's just signed on as spokeswoman for the Hanford House of Pancakes family restaurant chain. As long as sexy Jack keeps a respectful distance, she can keep her sanity on the whirlwind Midwest promotional tour he's planned for the two of them...
One hundred and one personal appearances later, and Jack's definitely flipped for the lovely blonde. But Rachael has her doubts, until their meddling relatives cook up a delicious scheme to get them together for real...and forever.
Love Be a Lady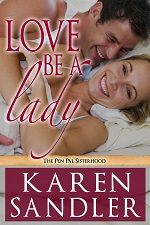 When Reno blackjack dealer Casey Madison helped Jeff Haley trap a card cheater, she knew better than to let herself fall for Jeff. The drop dead gorgeous private investigator might seem like a perfectly nice fellow, but so had her quartet of former boyfriends, until one cleaned out her checking account and another nearly sold her car out from under her.
So Casey has sworn off men and wiped Jeff from her mind—mostly. But when the card cheater, newly released from prison, starts stalking Casey, the first person she wants to call is Jeff. It turns out she doesn't even have to pick up the phone for help, because just as she spots the card cheater lurking outside her casino, Jeff Haley walks right up to her blackjack table, as if out of a dream.
Jeff Haley doesn't believe in love, especially when it involves a wacky blonde named Casey. But thanks to a mix-up at a computer repair shop, scandalous photos from Jeff's latest case were copied onto Casey's flash drive instead of his. It ought to be easy to get the flash drive from Casey and copy off his photos.
But Casey sent the drive down to her sister in San Diego, and refuses to let him go to her sister's without her. To make matters even worse, she's afraid of flying, which means a long car trip to Southern California with the sweet and sexy blonde right beside him. And when the jaunt to San Diego turns into a tri-state road trip with the card cheater in hot pursuit, Jeff realizes the lovely Casey might just be too hard to resist.
Sweet Dream Lover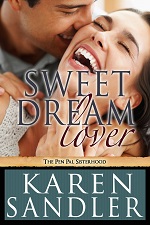 Kat Roth and Mark Denham have plenty in common—they're CEOs of rival Seattle-area candy companies, they're both in feverish pursuit of number one status in the nation and they were both once married...to each other. Their brief venture into matrimony, an explosive mix of hot passion and all-out war, has made Kat and Mark wary of love and leery of the sparks between them.
Enter Fritz, Mark's accident-prone young cousin who's on a secret matchmaking mission. With the collusion of Kat's father, Fritz concocts a joint Roth-Denham charity campaign that brings the two confectionery arch-enemies together at glitzy fundraising events.
As the campaign proceeds, Kat and Mark eventually end up in the one place their marriage always worked—in bed. All seems well until the ultimate betrayal tears them apart, and Fritz's plans seem destined for failure. It will take true love—and a generous helping of chocolate—to finally reunite Mark and Kat forever.
Till The Stars Fade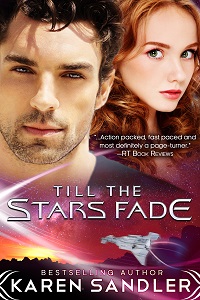 In the year 2123, humanity has pushed beyond Earth into the solar system and unlocked the secrets of life with genetic engineering. But despite the lifesaving cures and physical improvements wrought by the mastery over human DNA, some consider gene-tweaking an abomination.
Bold and reckless shuttle pilot Krys Krysynowski has thrown her lot in with SEIS, vocal opponents of genetic experimentation. But when SEIS sends Krys to the asteroid-based laboratory of Ian Llewellyn, her intense attraction for the lone-wolf geneticist shakes her to the core.
Krys's mission is to sabotage Ian's latest project, but his single-minded drive to conquer human illness turns her entire belief system upside down. And then she discovers the truth about Ian—and nothing will ever be the same for her again.
Hearts Redemption


Teenage sweethearts Johnny and Laura don't know how they died decades ago. They only know they must find someone living to solve the riddle of their deaths. Meanwhile they exist largely in the emptiness of the in-between, separated from one another, longing for those few bright days when they haunt the wreckage of the old car they died in.
Kyra Aimes, once-burned and twice-shy as far as men are concerned, doesn't know what to make of the 1955 Ford Fairlane that appears at her wrecking yard. But when Randon Bolton turns up soon after, Kyra knows she'd much rather face a haunted car than the commitment-phobic drifter. But just as the tragedy of the teen ghosts makes its way into Kyra's heart, so does Randon. And Kyra knows that a no-strings-attached man like Randon is going to break her heart all over again
Dark Whispers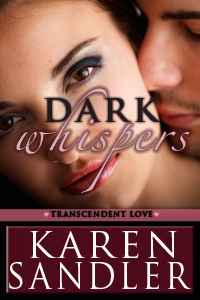 Almost 150 years ago, young prospector Noah Simmons was killed in the Hoyo del Diablo cavern beneath the Arizona desert. Now, after a century and a half of haunting his lonely cave, he watches a group of settlers arrive, including a lovely young woman...
Scientist Liz Madison would rather cross paths with the legendary ghost of Hoyo del Diablo than with the handsome, arrogant geologist Ethan Winslow. But marrying Ethan—temporarily—is the only way she can join the new BioCave experiment. In such close quarters, living as husband and wife, Liz and Ethan fight against a powerful attraction neither of them want. Then Liz begins to sense a strange presence—calling her name, moving her equipment. And when Noah appears, warning her of dangerous forces in the cave, her head and her heart argue over what to tell her new husband. Can Ethan be trusted to see the truth—and fight for the survival of their newfound happiness?